A unique and refined style
Because every piece is designed with and exclusively for you, a Blaise de Sébaste garment is first and foremost the result of an exchange process- whether you are are seeking timeless elegance or something a little more off-beat, we aim to understand your requirements and wishes and to translate and express them in the best tailoring traditions.
Our utter mastery of the handcrafting process of your suit means that we can offer you the highest level of quality and no limits on your design. For every garment, we take the time to communicate, reflect, research and manufacture, all essential elements in the creation of an exceptional piece. Throughout this process, we will give you our honest opinion in an authentic way.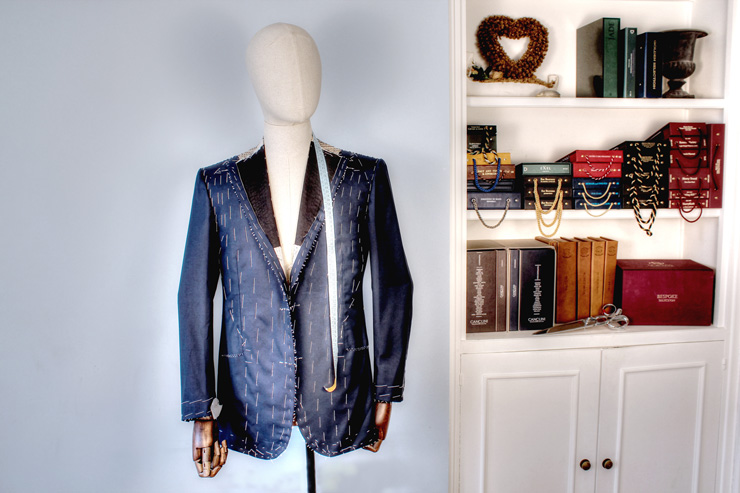 Whilst our style is characterised by a level of freedom that enables self-expression, the Blaise de Sébaste fit always shows you off at your best, and responds to the requirements of any man in search of refined simplicity and discreet originality. Most often fitted, the drape is given structure with a fine, flexible floating canvas that gives your jacket a natural finish. We favour generously-sized lapels, whilst our shoulders are assembled with a shoulder roll to emphasise your build. Our armholes are high to ensure maximum levels of freedom and ease of movement. Our lapel notches are kept high in order to increase the visual impression of verticality and lengthen your silhouette, and slightly curved to ensure a harmonious overall effect.
Every one of these details is studied and decided with you in order to match your tastes and shape. We have a wide range of cloth at our disposal, from the traditional and understated to the most extravagant; our personal preference is for unusual, patterned and colourful cloth, without ever tipping over into ostentatious or overblown. We work closely with the best Italian, English and Scottish drapers (Drapers de Vitale Barberis Canonico, Holland & Sherry, Dugdale Bros & Co, Harrisons of Edinburgh, Dormeuil, etc.) and the most specialised and discreet firms, to bring you your heart's desire.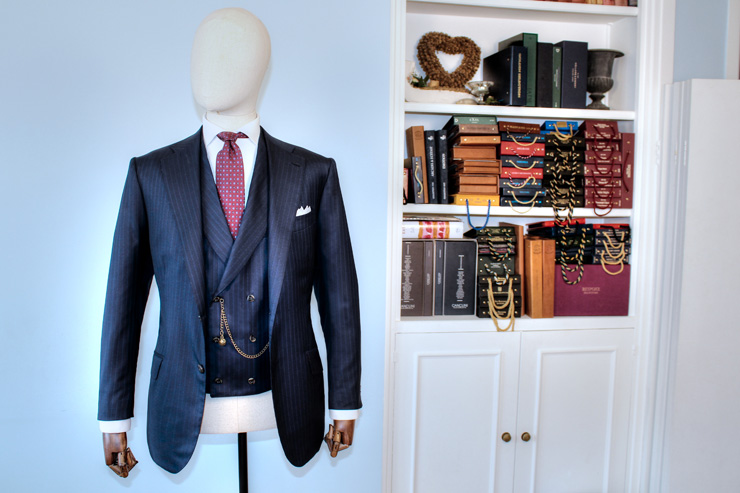 In the best tailoring traditions, our pieces are all produced by transforming natural materials: our cloth is of the noblest origin, made of wool, linen, cotton, cashmere or even more sought-after fibres such as pashmina and vicuña. Our buttons are crafted only from horn, mother of pearl or corozo. And, because a Blaise de Sébaste suit must be perfect in its every detail, however concealed, our canvasses and interlinings are made of horse hair, felt, cotton or linen in keeping with the standard practices of our profession. Whilst our suits are entirely handcrafted, particular care will be paid to the finishing details that mark out a quality garment.